Shop Local Valentine's Flower Arrangements in Fargo, ND
February 14th is closer than you think. Whether you need a last-minute Valentine gift idea or you're planning ahead for this romantic occasion, working with a florist in your local community to create a flower bouquet is a safe bet. Valentine's Day arrangement are a classic gift for a reason. 
When you send Valentine's Day flower arrangements, you show that you care, and you are thinking about another person even when you aren't with them. Floral arrangements can be sent to your significant other's workplace to brighten up their office, or they can be delivered to their homes for an extra-special dose of love. 
What does it mean to be someone's Valentine?
It means there is someone who wants to celebrate love with you, they are simply choosing you as the person that they would like to show fondness to on this special day.
A Valentine's Day Gift Symbolizing Love
When you understand the story behind a gift, it makes it that much more special. And the story behind sending flower arrangements on Valentine's Day is a beautiful one, dating back to the 17th century. 
One of the earliest stories about Valentine's Day comes from a legend about Emperor Claudius II of Rome. Believing that his soldiers should love Rome above everything else, King Claudius II refused to let his soldiers marry or start families. A Christian bishop by the name Valentine would marry soldiers to their loves in secret. He was eventually caught and executed. But before he went, he left a love letter addressed "for my Valentine" to the woman he loved. 
There's just something about the tradition of sending Valentine's Day flowers that really speaks to the soul, making the heart brim with warmth. 
Choosing the perfect Valentines flower arrangements for a Special occasion
Experienced florists know that valentine's flower arrangement go beyond just the visual. There are a wide variety of flowers you can choose from, ranging from traditional long stem red roses to bold mixed steams for your valentine.
Choosing the right flowers for your arrangement takes a practiced hand. Of course, a bouquet featuring your valentine's favorite flowers is always a hit. But you might also consider what certain flowers communicate. 
By giving the right flowers, you can communicate a lot to the person you're gifting to. 
Classic red roses are a favorite flower for this romantic holiday. From the very advent of floriography, long-stemmed red roses were a perfect Valentine's Day flower arrangements to symbolize love and romance. While modern bouquets may feature a variety of tastes, red roses remain some of the best flowers to clearly communicate your feelings. 
If red roses aren't right for you, or you're looking to put together a mixed flower bouquet, you'll want to know what you're communicating with your flower choices. Here are just some of the other most popular Valentine's Day flowers and what they symbolize: 
5 red roses alternatives for Valentine day flowers
Valentine flowers aren't just for romantic relationships. Yellow roses are considered a sweet symbol of friendship, while pink roses express gratitude and admiration for another person.





 

White roses are all about marriage — perfect for the newly engaged for newly married valentines. 


These roses are perfect to eternalize any moment, they will remain for a long time and are really easy to care, there is no need for watering and require only light maintenance.





 

If you want to communicate something a little spicy, lilies communicate both passion and fidelity to your loved one. 

This valentine flowers are a symbol of both love and captivation, they can be mixed with roses and other flowers to create a beautiful Valentine's Day flowers arrangements.
Just remember that the language of flowers is not as well-known today as it once was. You can make sure your loved one gets your intended message by including a sweet note with your flower delivery that explains why you chose a particular arrangement. Doing so can elevate even a last-minute gift, showing that you put care and thought into your selection. 
Featuring local same-day flower delivery in Fargo, ND
Did you forget to order a nice Valentine's Day flower arrangement for your significant other? Nowadays, this is not a problem, modern florist can always provide a solution to present a fresh valentine's bouquet to the person you love. 
With same-day flower delivery, you can easily send a beautiful bouquet of Valentine's Day flowers straight to the door step of the person you love the most. Whether your valentine flower delivery is ordered a month in advance or you wait to order your flower delivery until Valentine's Day rolls around, you can feel confident that your loved one will receive a remarkable, fresh bouquet of the flowers you've selected, even if she or he is on the other side of the nation.
Choose a trusted florist for your local Valentine's day flowers
Valentine's Day is a big deal, which is why it's important to work with a local florist you trust. Established in 1975, Country Greenery has a long history of designing and delivering quality flower arrangements. If you're in Fargo, ND, or nearby communities, contact us today to order your Valentine's perfect gift. 
5675 26th Ave S Suite 104,
Fargo, ND 58104

Call us: (701) 239-0000
Real reviews from local customer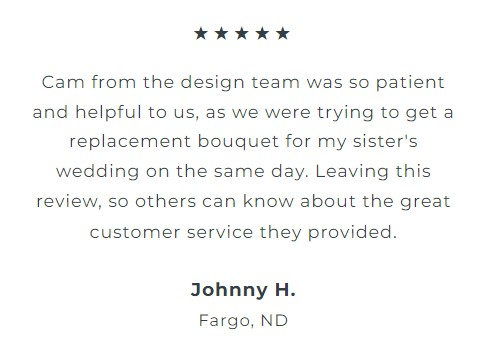 Explore other florist services we provide in Fargo, ND
Wedding arrangements:
Discover the best wedding flower arrangements and bouquets, our goal is always to make your special day looks shiny and stunning with fresh flowers. Get in touch to get a quotation for a variety of table flower arrangements, wedding bouquets and more, you can shop in-store, curbside pick-up, or ask for delivery.
Funeral Services:
We offer & delivers funeral flowers to help you express your condolences and honor for the passing of loved ones.
Corporate Gifting:
Make a memorable impression on high-value prospects, employees, partners & customers with our flower service for businesses.
Events:
Discover the perfect bouquet and other blooms to wow your crowd. You're in the right place! We offer bulk discounts to our customers. Contact us or stop by to place an order!
---