Discover Mother's Day Flower Delivery in Fargo and Nearby Communities.
Mother's Day is a special occasion that is celebrated annually in honor of mothers, motherhood, and maternal bonds. It is a day set aside to celebrate the love and sacrifices that mothers all over the world make for their families. In this blog post, we will explore the history of Mother's Day, its true date, and how people celebrate it. We will also discuss the tradition of giving flowers on Mother's Day and where to buy fresh flowers in North Dakota.
Is Mother's Day a Holiday?
Yes, Mother's Day is a holiday, but it is not a federal holiday in the United States. However, it is celebrated as a national holiday in many countries around the world. In the US, Mother's Day is celebrated on the second Sunday of May, while in the United Kingdom, mother's day is connected to Easter, which changes every year.
How was Mother's Day Born?
The origin of Mother's Day can be traced back to ancient civilizations, where mothers were revered and honored in various ways. However, the modern version of Mother's Day originated in the United States in the early 20th century.
The credit for establishing Mother's Day in the US goes to Anna Jarvis, who wanted to honor her mother.
Mothers day was celebrated for the the very firs time in Grafton, West Virginia, in 1908, as a tribute from Anna Jarvis to her mother. From that moment, Anna campaigned tirelessly to establish Mother's Day as a national holiday, and in 1914, President Woodrow Wilson signed a proclamation making it a national holiday.
What is the True Date of Mother's Day?
As mentioned earlier, Mother's Day is celebrated on different dates in different countries. In the US, Canada, Australia, and New Zealand it is celebrated on the second Sunday of May. While in the UK it depends on the Easter date.
While dates and celebrations vary around the world, Mother's Day traditionally involves presenting moms with flowers, cards and other gifts.
Do People Give Flowers on Mother's Day?
Yes, giving flowers on Mother's Day is a tradition that has been around since the holiday's inception. Flowers are a symbol of love, appreciation, and gratitude, and they are the perfect way to show your mother how much you care.
Some of the most popular flowers given on Mother's Day include carnations, roses, lilies, and daisies. Pink and red carnations are the traditional flowers for Mother's Day, with pink representing gratitude and red representing love.
What are the best flowers for mother's day?
There are many beautiful flowers that make great gifts for Mother's Day, but the best flower for your mother or the mother you want to surprise with a nice bouquet will depend on their personal preferences and style. Consider her favorite color, flower type, and any special meanings or symbolism that may be important to her when selecting the perfect bouquet.
However, here are our best flower bouquet suggestions for mothers day.
Roses:
Roses are a classic and timeless choice for Mother's Day. They come in a variety of colors and can express different meanings, such as love, gratitude, and appreciation.
Peonies:
Peonies are another popular choice for Mother's Day. They are known for their large, full blooms and delicate fragrance. Pink and white peonies are particularly popular for this occasion.
Lilies:
Lilies are elegant and sophisticated flowers that come in a variety of colors. They symbolize purity, beauty, and devotion, making them a perfect gift for your mother.
Carnations:
Carnations are affordable and long-lasting flowers that come in a variety of colors. They are a traditional choice for Mother's Day, as they symbolize a mother's love.
Orchids:
Orchids are exotic and beautiful flowers that are perfect for mothers who love unique and elegant gifts. They come in a variety of colors and can last for weeks with proper care.


Choose a trusted florist for mother's day flower delivery in Fargo and nearby communities.
If you're looking for a place to buy flowers for Mother's Day in Fargo, ND. Look no further than Country Greenery. We are a flower shop that has been serving the Fargo-Moorhead community over the years.
We offer a wide selection of beautiful flowers and arrangements that are perfect for Mother's Day. Whether you're looking for a classic bouquet of roses or something more unique, we have something to suit every taste and budget.
5675 26th Ave S Suite 104,
Fargo, ND 58104

Call us: (701) 239-0000
Real reviews from local customer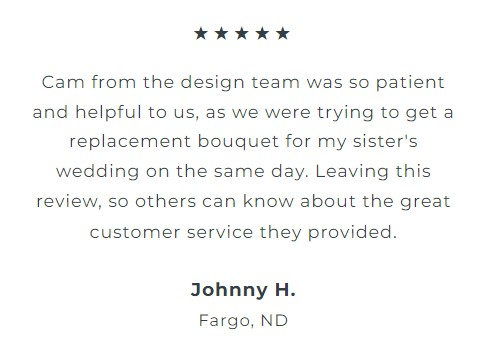 Explore other florist services we provide in Fargo, ND
Wedding arrangements:
Discover the best wedding flower arrangements and bouquets, our goal is always to make your special day looks shiny and stunning with fresh flowers. Get in touch to get a quotation for a variety of table flower arrangements, wedding bouquets and more, you can shop in-store, curbside pick-up, or ask for delivery.
Funeral Services:
We offer & delivers funeral flowers to help you express your condolences and honor for the passing of loved ones.
Corporate Gifting:
Make a memorable impression on high-value prospects, employees, partners & customers with our flower service for businesses.
Events:
Discover the perfect bouquet and other blooms to wow your crowd. You're in the right place! We offer bulk discounts to our customers. Contact us or stop by to place an order!
---